Support federalism or against it
interview
Status: 02/12/2021 5:26 p.m.
Federal President Steinmeier has the 1,000. Solemn opening of the Bundesrat session - with a speech in which he found words of warning, but above all defensive, for federalism in Germany.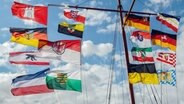 Listen to the article6 min
The federal system can use support, especially in the face of pandemic times, in which it is under "closer observation", said Steinmeier. Political scientist Nathalie Behnke is a tireless advocate of federalism.
Ms. Behnke, at the beginning of the Corona crisis there seemed to be even greater encouragement for the government to act. Meanwhile, the population's trust in the state seems to be weakening. Is the confusion caused by federalism with regard to the corona rules complicit here?
Nathalie Behnke: It's hard to separate. The growing dissatisfaction with political decisions is palpable. One also has to ask what a government could have done differently in order to generate less dissatisfaction among the population. This is a really difficult situation that the government is in. The ranting about the inconsistency between the countries has, in my opinion, subsided a bit, and I'm not sure whether that was really a clearly reinforcing factor. Conversely, it must also be seen positively that in the discussions about the pandemic protective measures some of the heads of government of the countries have made a name for themselves, but then really took care of the sensitivities of their populations. For example, you have tried to reduce restrictions when there were regionally lower incidences. That was also perceived positively and not only negatively.
In times of pandemics with dynamic developments, rapid action is often required. Federalism is not exactly conducive to speeding up processes. The federal system is becoming a bit of a block. You also consider it an advantage that there is a lot of discussion, don't you?
Behnke: Without a doubt. If we look at the deadlines in which reactions have been made since the outbreak of the pandemic in Germany, we can see that the working federalism in its many intergovernmental bodies has a well-established routine of reaching decisions very quickly in case of doubt. For example, with the lockdown decisions in March, November and December, we had a nationwide implementation of state regulations that usually ran within 48 hours. One cannot blame federalism for reacting inappropriately slowly in a crisis situation. Nonetheless, each of these relatively quickly implemented decisions is preceded by an intense, polyphonic and diverse debate. This is often perceived negatively, as inconsistency, disagreement and so on - but we live in a democracy, and democracy also lives from the conflict between different opinions. And as long as this discussion proceeds in an orderly manner and is broadcast in constructive processes, it can actually only contribute to improving the rationality of the decisions made.
Education federalism is under constant fire because it promotes inequalities. This is exacerbated in Corona times, in which some students are taught homeschooling and the others are allowed or required to go to school. How do you observe the actions of the political decision-makers here?
Behnke: Usually I am very dissatisfied with educational federalism because one aspect that I normally appreciate about federalism, namely federal competition, which also encourages learning between countries, is actually left out. The countries observe little in the way of education, and everyone does their own thing. Especially during the lockdown period, however, I am not so sure whether one can really say that inequalities are increasing because every country is fighting in its own way to offer its students the best possible education. I would also question whether the equation "homeschooling is equally bad - presence is equally good" can be implemented one-to-one. It is also about what will happen in homeschooling and what will be in classroom teaching. You can't just say that one thing works and the other doesn't.
You said that you are not always satisfied with educational federalism - so do you, as a federal advocate, see disadvantages?
Behnke: Federalism, like every form of state organization, has to contend with adversity. What we have always been able to observe in Germany was that federal decisions between the countries, which are very strongly oriented towards consensus and cooperation, are regularly overlaid by party competitions. And parties - especially when they are in the election campaign - tend to make a name for themselves, perhaps also to take extreme positions, to set themselves apart. Last year we had a relative calm, and this year we have a lot of upcoming elections and you can tell that it is getting more restless because a lot of politicians are trying to make a name for themselves.
Its thousandth meeting took place in the Federal Council. Is this a feast day for you?
Behnke: The Federal Council is a great institution that has more than proven itself throughout the Federal Republic. It is usually not in the public eye at all, but I am of the opinion that it is extremely important for policy-making in Germany because, through this arena of the Bundesrat, we have many lines of conflict that are established in the political system - between parties, between levels, between regions - get moderated. Here there is a great routine of finding consensus, forming a majority. It is the well-oiled machine to create a broad social consensus in Germany. He is really to be commended for that.
The interview was conducted Alexandra Friedrich.
This topic in the program:
NDR culture | Journal | 02/12/2021 | 6:00 p.m.