Back pain treatment
There are many different treatments or therapies available to you for your back. Here you will learn about a number of known and unknown methods. I can't understand myself why the knowledge you find here isn't much more widespread, although ...

Classical medicine has already proven many times that it does not exactly receive promising new methods with open arms or that it often even combats them ...

A bad example of this is scurvy. It was not until 80 years (in which many thousands of seafarers were still dying of scurvy) after the solution to the problem became known that classical medicine of the time accepted the solution - known for 80 years -: vitamin C!

Nowadays there is trigger point therapy. It has been known for years that it produces good results - but it is not recommended by most doctors or sometimes rejected outright, despite an impressive amount of research.

Or what do you think of former Marine Pete Egoscue, who discovered the secret of good posture through his wartime injuries. Pete Egoscue has now set up Egoscue University himself and has already treated at least one US president with his progressive methods.

Your body is crying out for water

Then there is the work of the famous Dr. John E. Sarno, who did groundbreaking research and achieved meaningful results with his tension myositis therapy. Don't worry, you will soon know more about it than your own family doctor unless you have a very progressive family doctor.

You will also learn the importance of Dr. med. Fereydoon Batmanghelidj can have for your back, and maybe not just for your back, but for your health as a whole. His work produces results even with Alzheimer's!

But you will also read about Pilates, McKenzie, Bonnie Prudden, Mensendieck and others. All of these people have one thing in common: they can be important to your back.

You will meet Dutch and international experts. Every now and then a certain therapy is not (yet) available in the Netherlands, but it is so effective that we will write a special report about it, which will enable you to use this therapy as a self-treatment method.
Next: Back Pain - Does Physiotherapy Help?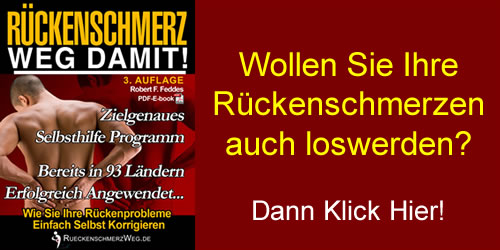 ---
---
Prev: Trigger points - source of back pain ...
---
Also read articles about: