Prefer employers to telephone interviews
5 tips for the video interview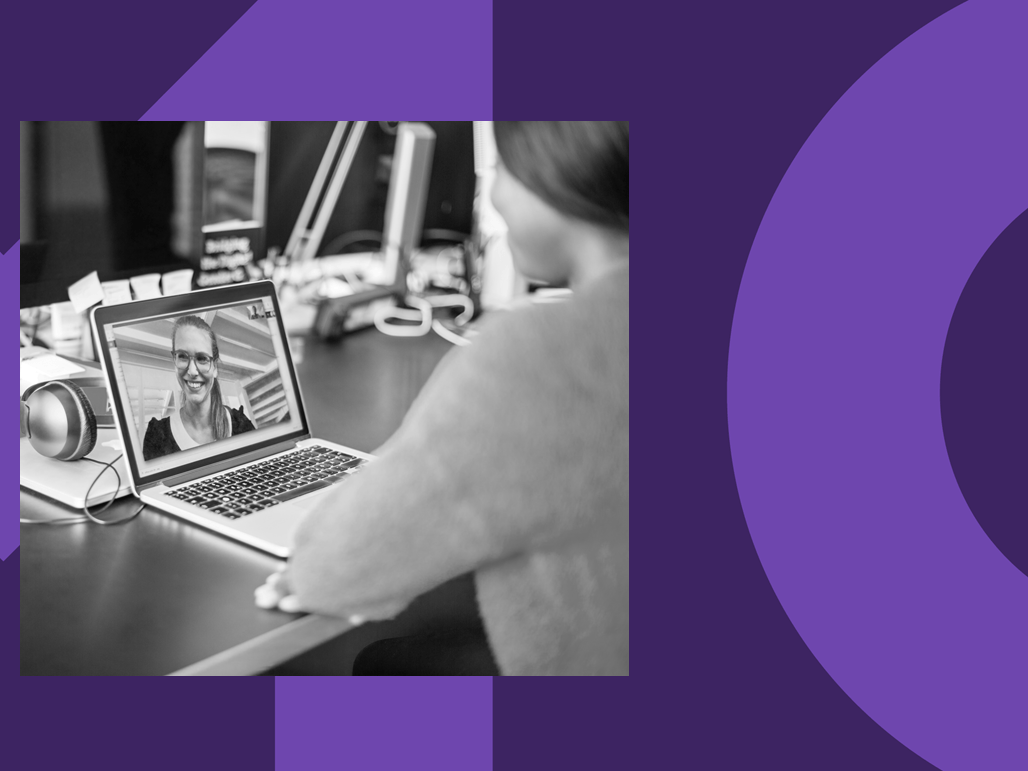 Interview from home - video makes it possible!
The Corona crisis has set a lot in motion! In the meantime there have been a number of loosening up and everyday life is slowly returning, but the lockdown has changed and promoted many things - and of course in recruiting as well. The video format as part of application processes and selection procedures has experienced a great boom and many interviews are now conducted via Skype, Zoom, Microsoft Teams or Google Handout. For example, Viasto, a provider of video solutions for recruiting, states that the number of employers looking to convert their interviews to video technology has increased by 80%. The corona crisis has accelerated the digitization of recruiting processes and the experts do not assume that many employers will return to their old selection procedures after the situation has normalized.
But if you've never tried video interviews yourself, we can imagine it can be a little nerve-wracking. Monster gives you five tips on how to prepare perfectly for the video interview. (Incidentally, many of the tips also apply to job interviews over the phone!) Many employers now prefer video applications to applications over the phone. This makes sense, because if you only hear someone's voice, you, as a HR manager or future manager, are missing out on an important part of what defines a person: non-verbal communication. Do you have a video interview soon? Don't worry, you will be well prepared with these interview tips!
5 interview tips: video
1. Dress properly - professional clothes above and below
Yes, there is a great temptation to dress according to the motto "above hui, below ugh". But: Make sure that you look representative and professional. Don't make the mistake of thinking: you're only seeing my top, so I'd better keep my sweatpants or yoga leggings on. Because you may have to get up during the conversation for whatever reason. How does it look??? In addition, a jacket, shirt, blouse or blazer will help you to bring yourself into the right mindset for the important conversation in the domestic situation. Those who dress properly are more motivated, more self-confident and more present.
Of course, it's also important that your outfit matches the job. Think about what you would wear to an on-site interview and use it as a guide. The most important thing, however, is that you feel comfortable and that your outfit gives you self-confidence
2. Choose the right environment and build your "stage"
The nice thing about a video interview is that you can keep it in an environment that you know and, in the best case, pleasant, and that should first give you security. However, pay close attention to where you position yourself for the video interview, how the camera is and what is in the background. Basically, you are well advised with a neutral, calm background. Restless surfaces, wild photo or book walls, kitchen cupboards or the television are not a good idea.
But it doesn't always have to be the bare, white wall. The background also tells a story! You have the opportunity to build your own stage. For example, pictures in the background, plants, books that are important to you or a guitar can be elements that you can use to show your personality and also to have possible points of contact for small talk. Of course, it should stay professional and not be too distracting.
A few more specific points about light, alignment & Co that you should consider:
No reflections: Make sure that you don't have mirrors, window letters, or glass doors in the background, as they can cause unfavorable reflections and reflections.
Spotlight:Basically, natural light is best. But if that is not enough, you can use additional light sources. It is best to position them so that they illuminate your face well and do not come directly from above, otherwise unsightly shadows can arise. You should also avoid sitting against the light, e.g. directly in front of a window, because this will make your face dark.
Distance: To avoid shadows behind you, there is a rule of thumb of 1.5 meters that you should sit at least away from the wall to avoid ugly shadows behind you.
Of course, it is best if you have a place that is as quiet as possible. But there are a number of disruptive factors that can interfere: the ringing cell phone, the people at the door, open e-mail programs, roommates bursting in, kids or partners, barking dogs and noises from outside ... the list is long. It is therefore important that you take some time beforehand in order to minimize the sources of interference and distraction as much as possible:
Mute: Turn off your cell phone / telephone, maybe even the doorbell, or set it to silent
Shut down: Close all programs and apps on your computer, laptop, tablet or mobile phone.
Notify:Let the people around you know that you have an interview and cannot be disturbed.
Close the window: Close the windows to adjust the background noise a little.
3. Pay attention to your posture
While a video gives a better impression of you than just a voice during a telephone interview, your body language is more difficult to judge on the screen than in real life. Try to make sure to sit straight and upright, as this will convey presence and attention.
Our tips: Make eye contact with your contact person. Don't just look at the screen or even just yourself, but look at the person you are having the conversation with by looking directly at the camera.
The camera orientation is also crucial here. This should be placed in such a way that you can sit stable and upright and do not have to look up or down too much. Depending on the height of the table or chair, it may be necessary to put a few books or, for example, a shoebox under the laptop in order to achieve the correct height. If you intend to use your mobile phone, it is worth investing in a stable tripod mount and aligning it accordingly.
It's also good to have your arms and hands in the picture from time to time, not just your head. Sit so that you can see your entire upper body and use your hands to underline certain statements and bring in a little liveliness. Above all, show that you are enthusiastic! But don't wave your arms around wildly or nod incessantly. Simply use the gestures in a targeted manner.
4. Be yourself!
Video sounds like a great opportunity to just use a "cheat sheet" after all. You can be sure and put down a piece of paper just like in a normal conversation. But make sure that you come across spontaneously and that you don't read the answers to the questions too obviously. Do you want to use a cheat sheet? Just write keywords on it and use it subtly as a reminder. If you are sitting in front of a wall, you can even work with post-its and pin some of the key words or maybe just a motivating phrase on the wall in front of you. So you have your personal prompter with you during the conversation.
We would also like to remind you again: An interview is not a one-way street! It is also your chance to learn more about the potential employer and to get rid of your questions that are preoccupying you. It's best to prepare a few questions and use the conversation to ask them.
5. Practice, practice and practice.
Basically: Preparation is the alpha and omega! This applies to the video interview as well as to the personal one. First and foremost, this means finding out about the company, preparing answers to typical questions and thinking about what you would like to know about the company and the position. And then practice! It will give you security when it comes down to it.
And then there is the challenge with technology. In order to test how to use the respective video tool, it is worthwhile to rehearse the conversation with yourself or with a family member or friend. This way you get used to what you see on the screen, which will help you with the video job interview later. YouTube tutorials can also be helpful if you are brand new to the tool. And don't forget to check your equipment - laptop / cell phone, internet connection, headset and camera. You may find that the Skype app on your phone or notebook is not working at the moment or the microphone is refusing. So ask carefully which video tool is being used and test, test, test double and triple!
Our tip:In the event that technical problems arise during the conversation, always have the phone number of your contact person ready so that you can react quickly and inform the person you are talking to.
Hasn't worked yet?
You haven't been invited to a video job interview yet? Then take a look at us for interesting companies or upload your résumé to Monster now! Every day, recruiters use our résumé database to search for qualified candidates like you. You shouldn't be missing there! In any case, we wish you every success and stay safe and healthy even in times of Covid-19!