Which beaches in New Jersey are free
The top 5 beaches in and around New York City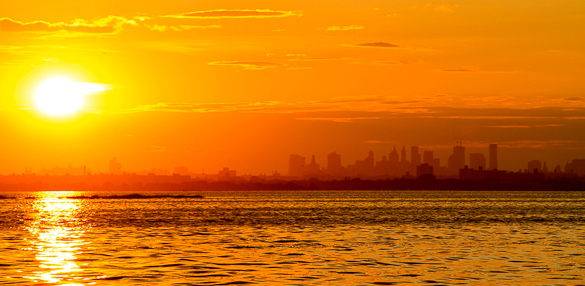 The New York City skyline as seen from Queens, New York on a hot summer evening
New York: The City of the Empire State Building, Central Park, the Yankees, Wall Street, the West Village, and more. . . Beaches? A sandy beach is not what comes to mind when you think of the Big Apple. This is really a shame because the city has a number of really impressive beaches! And when the summer months go into the high eighties or even the nineties (30-40 ° C for Europeans), a dip in the cool salt water sounds really tempting!
Unfortunately, not everyone knows where to find these spots in sandy paradise. Tourists who come to the city during the warmer seasons and want to cool off with overpriced ice cream, or end up in overcrowded public swimming pools, don't know that wide sandy beaches are just a few, air-conditioned subway stations away! Maybe it's because Manhattan Island has no coastline. To get to the beaches, you have to leave the center of the universe and visit the other 4 boroughs of New York City: the Bronx, Brooklyn, Queens and Staten Island. You can travel further to lie on the wide beaches of Long Island.
A beach for every part of the city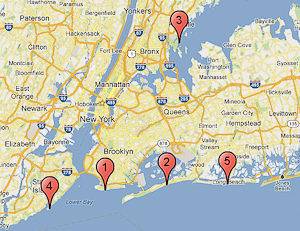 See the numbered pins for the location of the top 5 beaches in New York City
Once you start looking for beaches in and around New York City, you will find the choice is plentiful! To avoid a hassle on the Midtown Manhattan Subway, we've narrowed the list down to the 5 best beaches in and around the city. We've written one for each borough (except Manhattan) so no matter where you are in town, there's always a beach near you! Access to all beaches is free. We also wrote down a beach in Long Island because it's one of our favorites. All beaches here have sections listed with lifeguards daily from 10 a.m. to 6 p.m. during the swimming season that begins on Memorial Day weekend. To learn more about water safety, visit the official NYC Parks & Recreation Beaches website.
Without further ado, for those hot summer days and nights in the city that never sleeps, head to these New York City beaches and stay cool!
1. Coney Island, Brooklyn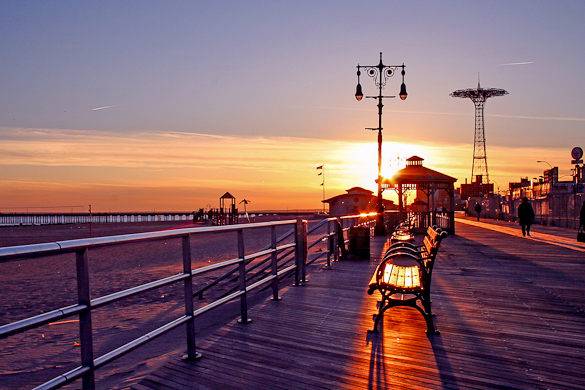 A picture of the sunset over the boardwalk of Coney Island, Brooklyn, New York
This iconic beach is arguably the most famous of New York City's beaches. Some say this New York beach, boardwalk, and amusement park are past their prime. It is true that this once popular resort town fell into disrepair after World War II. In recent years, however, Coney Island has been brought back to life: the boardwalk has been renovated, new showers and toilets have been installed, and the 4 km long beach is clean and inviting again. Also, it doesn't hurt that Coney Island is easily accessible by public transportation. A cheap subway ride from Midtown Manhattan takes less than an hour: you can take the D, F, N, or Q subway to Coney Island / Stillwell Avenue Station, which is just two blocks from the beach. Take a ride on the famous Cyclone roller coaster, eat a hot dog at Nathan's Famous, take a stroll along the boardwalk, relax on the beach, and put on your swimming trunks! For more attractions and events, check out the Coney Island Fun Guide.
Just like Manhattan, New York Habitat offers a wide variety of Brooklyn apartments. Take this two-bedroom Brooklyn vacation rental (NY-15000) for example, it's perfect for exploring the bustling neighborhood while staying near the beach. This accommodation has a private rooftop terrace with panoramic views and is only about 5 blocks away from the subway line F, which takes you instantly to Coney Island.
2. Rockaway Beach in Queens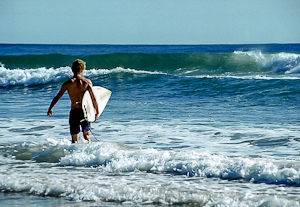 Rockaway Beach in Queens, New York is known for its surfers
Rockaway Beach is the largest urban beach in the United States. It's also the only beach in New York City where you can meet surfers: there are two separate parts of the beach that are reserved for surfers. In summer the small waves are excellent for beginners, the experienced surfers come to this beach at the height of the hurricane season in early autumn. On the beach there are bathing facilities, a long promenade, snack stands, 7 playgrounds, public bathing beaches and of course plenty of sand for your bath towel! Rockaway Beach is also easily accessible by subway. Take the A or switch to the S on scenic Broad Channel, go to Beach 90 Street for the surfers, or Beach116 Street for the bathers. Become a surfer, meet the cool Brooklynites and local families on this eclectic beach that's just a scenic 90 minute subway ride from Midtown, Manhattan!
3. Orchard Beach in the Bronx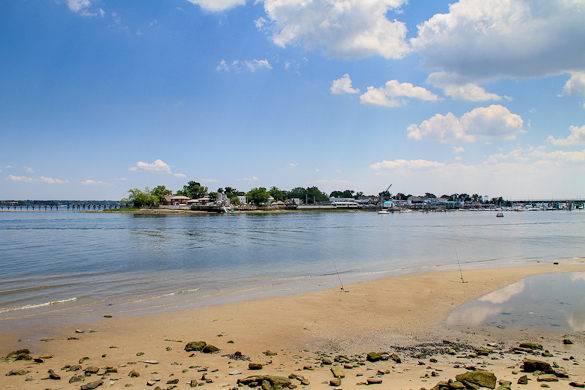 A view of City Island from Pelham Bay Park Orchad Beach in the Bronx, New York
This man-made beach was once called the "New York City Riviera". It certainly has some great deals: The crescent-shaped beach looks out over Long Island Sound, and has playgrounds and food stalls along the boardwalk. After an afternoon in the sun and water, we recommend that you spend a day on City Island, which is a few minutes' walk from the beach. This picturesque island has a real, small, fishing village and is famous for its seafood restaurants. City Island Lobster House has top notch crab cakes, while the Original Crab Shanty Restaurant has great seafood noodles. To get to Orchard Beach, take the 6 subway all the way to Pelham Bay Park, and then hop on the Bx12 bus to Orchard Beach.
4. Great Kills Park on Staten Island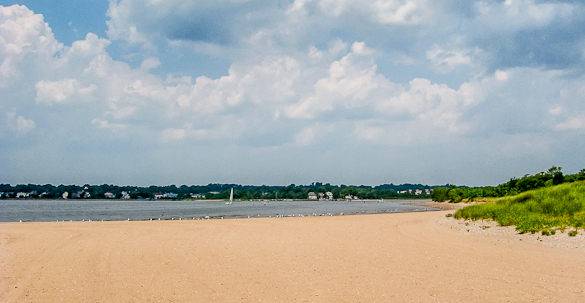 The beaches in Staten Island's Great Kills Park overlook the Great Kills Marina and New York's Lower Bay
Staten Island's most famous beach is Franklin D. Roosevelt Beach, which has a boardwalk that stretches for 4 kilometers. Less known is Great Kills Park, the beaches here are less crowded and offer more privacy. The drive to Staten Island is lovely in itself. First you can take the 1, 4, 5 or R Subway downtown to the South Ferry Station in Lower Manhattan. Once there, board the free ferry to Staten Island. The ferry makes its way through New York Harbor, past Liberty Island and offers breathtaking views of the Statue of Liberty and the Manhattan skyline. Staten Island has its own trains and you can easily pay with your MetroCard. Take the train to Bay Terrace and you are almost there: just a 3 block walk east and you are in Great Kills Park. If you go south you will come to an idyllic harbor with small boats. On the east side of this marina is a peninsula with a small harbor and a nice quiet beach. Aside from baths and showers, there isn't much else here on this side of the marina so make sure you bring your own picnic basket!
In case you fall in love with Staten Island or need more time to see all that it has to offer, we have this first class island villa for you. This four bedroom villa (NY-15040) even has its own pool, and if you move in, get a 3 day free limo service that can take you to the beach in style!
5. Long Beach in Long Island

An image of the white sand beaches that stretch along the south coast of Long Beach Barrier Island, New York
Long Beach is truly a gem: the white sand is smooth, the beach is clean, the water is refreshing, there are great waves for surfing, and parking is free! In addition, the beach is easy to get to even if you don't have a car. The LIRR (Long Island Rail Road) gets you here in less than 60 minutes from Penn Station in Midtown, Manhattan! The only disadvantage is that the beach itself is not free: all beach visitors aged 13 and over must buy a $ 12 ticket to enter the beach at designated entrances (only on the weekend from May 16th to June 17th and daily from May 23rd) June to September 3rd). If you're already based in New York, we recommend purchasing a LIRR Beach Getaway Package: For just $ 21, you can get a round-trip train ride and beach access package. Watch the sun set over the Atlantic and feel like miles away from hectic New York City.
It would be awkward to write about Long Island's beaches without at least mentioning Jones Beach, Fire Island, and Cooper Beach. These three famous vacation spots are all a little further from New York City, but they definitely deserve an Honorable Mention! Jones Beach was developed by Robert Moses and is considered one of the most beautiful parks in the New York City area. It has a lot of great things like a pool and an amphitheater where concerts are held in the summer. Home to an impressive lighthouse built in 1857, Fire Island has 26 miles of coastline and quaint towns like Ocean Beach and Fire Island Pines. After all, Cooper Beach in Southampton was named America's Best Beach in 2010. Here you get a glimpse of the imposing mansions in the Hamptons, a beautiful gazebo, and pristine white sand.
We hope you enjoyed this rundown of some of the best beaches in the New York City area. Of course, there are many other beaches in the area that we haven't discussed here. Have we forgotten your darling? Leave us a comment below!