The internet is used daily for news, product information, travel offers, recipes, pictures and much more. Mainly the well-known search service Google is used for this. There are, however, many other search engines: Some of them work in a similar way to the market leader, while others have their own approaches. In this article we will introduce you to the Top 10 search engines in front.
What are the most popular search engines in the world?
Google
Bing
Baidu
Yahoo!
Yandex
DuckDuckGo
Ask.com
AOL.com
WolframAlpha
Internet archive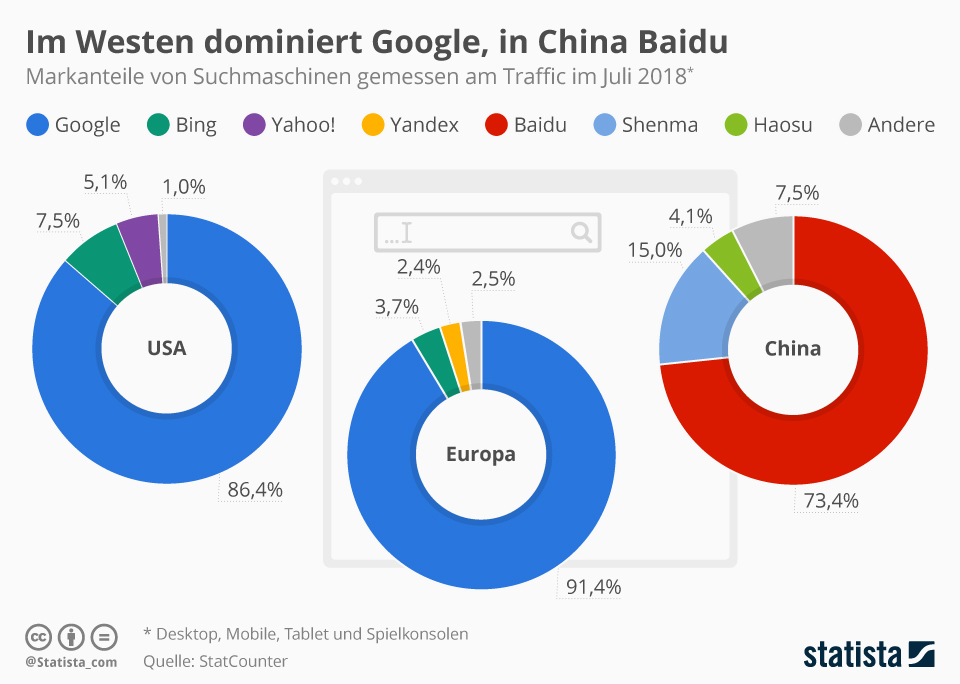 Image: Market shares of search engines worldwide, Statista
1. Google
The best-known search engine giant with a market share of 70.62 percent (desktop / laptop) and 94.29 percent (mobile) is Google. The search engine delivers personalized search results based on stored user data.
In addition to matching website results, the results are divided into categories such as images, news or videos. There are also separate functions for searching for and comparing prices for flights and online shopping items. Google Books gives you an insight into various books.
2. Bing
The search engine from Microsoft is the second largest provider after Google, but already has a significantly smaller market share with 13.14 percent and 0.68 percent (mobile).
The first thing that catches the eye here is the attractively designed home page with background images that change daily. Similar to Google, the search queries are divided into categories such as images, videos, news or shopping. There is also a separate map search. The video search is particularly useful: when you move the mouse pointer over a video in the thumbnail view, a video preview starts for most of the search results.
Bing also offers the Microsoft Rewards system. With this you collect points when you use the search function. You can then redeem these bonus points for gift cards, films or apps, for example. All you need is a Microsoft account with which you can sign up for the reward system.
3. Baidu
Baidu is a search engine from China and is used especially in Asian countries. The minimalist design makes it reminiscent of Google, but is only available in Chinese. Baidu also seems to have based itself on Google in terms of functions and offers tools such as maps and a music and video search. A special feature: With Baidu, users can also search for MP3 files.
There is also its own social media portal, a question forum and its own online encyclopedia (Baidu Baike). However, Baidu is working with the Chinese authorities, which is why the company is repeatedly confronted with allegations of censorship.
4. Yahoo!
Yahoo! Search is supported by Bing and offers additional functions such as Yahoo! Answers and Yahoo! Finance. Yahoo is also linked to the Flickr photo service and is therefore particularly suitable for image searches.
In addition to the search engine function, Yahoo! its own web portal that offers features such as news on the one hand, but also its own e-mail platform on the other.
5. Yandex
In Russia, the Dutch-Russian alternative Yandex is the most popular search engine. The search function is structured similarly to that of Google. Websites, pictures and news can be displayed. As with the world market leader, there are also internal tools such as maps and a translation function. And when it comes to data analysis, Yandex is also following the big role model: With AppMetrica, the search engine offers a tracking and analysis tool for marketers.
6. DuckDuckGo
At DuckDuckGo the focus is on data protection, which is why no user data is stored. To determine the search results, DuckDuckGo searches all major search engines such as Bing and also uses its own web crawlers to search websites for information that matches the search. Similar to other search engines, the search results are sorted by categories (such as images, videos, news). DuckDuckGo also has its own map function.
7. Ask.com
Ask.com is mainly used in the USA and enables the search for text-based web articles and videos. However, the quality of the results cannot be compared to Google or Bing. The special feature: thanks to the question-and-answer function, users can also enter complete questions here.
8. AOL.com
The Internet service AOL.com, similar to Yahoo! its own web portal with search bar, news area and e-mail inbox. The search results are imported by Bing.
9. WolframAlpha
The WolframAlpha search service does not just provide a list of websites as a search result, but facts. For example, the keyword "Germany" gives you demographic information on the population as well as information on the unemployment rate and gross domestic product. This makes WolframAlpha one of the semantic search engines, which we will discuss below.
10. Internet archive
The Internet archive is comparable to an online library. It offers free access to archived websites as well as freely available films, books and music. The search engine is therefore particularly suitable if you want to examine how a particular domain has changed over several years.
Other alternative search engines: These 3 should also be looked at
In addition to the featured top 10 There are other search engines that, in addition to a high level of user-friendliness, emphasize compliance with the privacy of their users:
Metager
Metager automatically searches several search engines with every search query and delivers the results bundled. If necessary, you can determine yourself which search engines should be consulted. The meta search engine comes from Germany. Behind this is the non-profit association Suma e.V., which operates the search engine in cooperation with the Leibniz University of Hanover. As with DuckDuckGo, the focus here is on data protection, which is why Metager does not collect any IP addresses and does not save any cookies from site visitors.
Qwant
Qwant also has high data protection requirements and enables anonymous searches. The search engine comes from France and has also been available in a German version since 2013. Quant shows website entries, videos, news as well as matching music titles and shopping opportunities. Depending on the search category, you can further refine the results using additional filters and other search terms. You can save interesting search results in a personal notebook.
Ecosia
The search engine Ecosia combines search queries with environmental protection. The company promises to plant a tree for every 45th search query. The whole thing is financed through advertisements. The search results are imported via Bing. Since data protection is also an important concern at Ecosia, the search engine does not collect any user data.
Semantic search engines offer particularly good search results
During a search, semantic search engines automatically recognize the context of the keywords being sought and can therefore deliver particularly good, appropriate search results. For example, the German search engine Semager searches for the entered search term and at the same time takes into account terms that have the same meaning.
Musicovery.com works in a similar way. When searching for certain songs, the music search engine provides similar music that has a high probability of meeting the same taste.
In addition to Google, there are a number of alternative search engines that are similar in function and application to the industry giant. Here you can choose according to your preferences.
For example, attach special importance to privacy, it is advisable to search with providers such as DuckDuckGo, Qwant, Metager or Ecosia. With the latter, you are doing a good deed with your search query and are helping to protect the environment. Rumor has it that Apple is also working on an in-house search engine that will compete against Google - so we can stay tuned.
Cover picture: Prostock-Studio / getty images
Originally published August 31, 2020, updated August 31, 2020
Recommend this article: