How do artists make sculptures
Making-Ofs Sculpture production
Sculpture and modeling with plaster & concrete
The making-of of the wall sculpture "wandechse"
This photo series shows an example of how direct modeling with plaster of paris or concrete can be approached. First, a basic framework is built from support materials, in this example with Styrofoam, wire and fly screen. Then plaster of paris is applied in several steps and after hardening, if necessary, removed again in places with files and scrapers until the desired shape is achieved.
The finished one wall lizard was shown at the art scene in Zurich in 2011.
For large-format works, I work with internal frameworks (wood, wire, metal), which I then work out directly with concrete or plaster. An example of this is shown in the extensively documented manufacturing process of the life-size lady in concrete.
Sculptures modeling & casting
I create sculptures from clay or other modeling compounds, from which I then make casts in various materials. I do concrete and plaster castings myself, metal castings I hand over to a professional foundry.
The making-of of the horse sculpture "pferd, piaffe"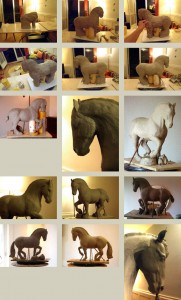 This series of photos shows how a lump of clay gradually becomes a horse sculpture. The soft and pliable material clay is heavy, so it is necessary to support the torso and legs with bamboo sticks and sturdy wire.
The modeling was followed by molding the original clay with silicone and a plaster mold. After pouring and reworking the concrete blank, this is the finished concrete sculpture horse, piaffe.
The making-of of the bat sculpture "wandfledermaus"
The following series of photos shows how the wall bat from a plasticine-like modeling clay.
First, I made a 2D model from paper, which I used as a guide for size and proportions. I then used the modeling material to model a bat relief:
Then the mold was made with Lego blocks, latex and plaster, and then the bat was poured in white ceramic:
You can find the finished wall sculpture "wandfledermaus" here.
The making-of of the horse sculpture "horse and woman"
Another commissioned work, created in just a few days in 2013 in South Africa, is the clay sculpture horse and woman. Here you can find the detailed commented manufacturing process for this sculpture.
Commissioned sculptures
Would you like to order a sculpture from me? For more information, see Sculpture Order.
Like it? Please share!