How do I prepare an internship resume
Internships on your resume: tips for pimping
Evaluate especially with young professionals Internships the curriculum vitae enormous on. Logical: the less work experience an applicant has, the more important the internship factor becomes. But what if the only references you have in your quiver are three internships from your student days. So how do you get across that you weren't just making coffee there, but that you did a solid job? We'll show you how to do the Internships in the résumé and make the stations look good too ...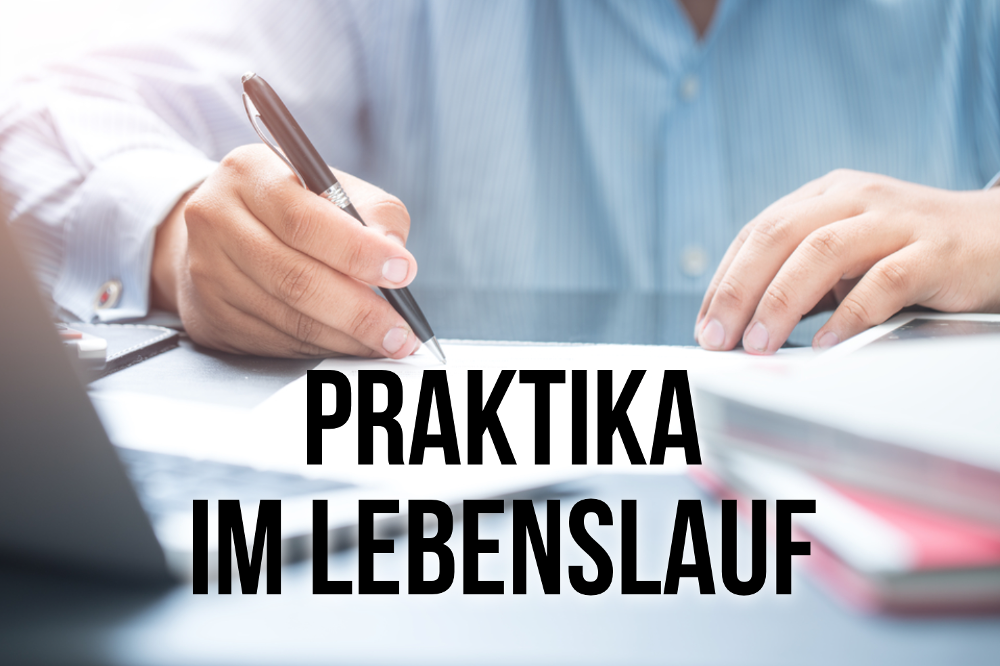 ➠ Content: This is what awaits you
Which internships should be included in the résumé?
The short answer: if possible, only the relevant ones. Internships in the résumé should round off the applicant's profile and underline not only theoretical but also practical qualifications. Accordingly, only those internships should be mentioned in the résumé, whose Contents and experiences directly related to the desired position stand out from the job advertisement. Irrelevant, even if you found it interesting and instructive, can be left out. It's just reading ballast.
For example, if you apply as a project manager, you increase your chances if he or she evidenced by the internshipHaving already organized one or more projects and teams. The more direct this relation to the job, the better. But indirect references, such as proof of social skills through an internship abroad, are also helpful. The main thing is that you show that you have as many of the required skills as possible.
However, it takes The importance of internships in the résumé with increasing professional experience from. For internship candidates, trainees, university graduates and young professionals, they are important evidence of initial practical experience. However, those who have already held ten or more professional years and various positions can skip the internships. Unless they are used to fill long-term gaps in your résumé.
➠ Content: This is what awaits you
Internships on the résumé: where are they mentioned?
The most relevant internship is of no use if the HR manager first has to look for it in the résumé with the monocle. Internships with which you actively advertise yourself belong either in a separate section "Internships" (see example) or in one Rubric called "professional experience":
In no case do they belong in the "Hobbies" section or in the anyway completely useless category "Miscellaneous" (miscellaneous sounds like Resterampe). Incidentally, this also applies to voluntary activities that are related to the desired job: They either deserve their own section or are "special interests".
Recruiters scan many résumés first just quickly from top to bottom to screen out whether applicants meet the minimum qualifications for the position. If there is a yawning void for you in the "work experience" section, the chances increase dramatically - however, that the application documents end up on the reject pile.
So don't bury your internship in the depths of your résumé, but elevate it to a throne. And describe its content like this precise and meaningful as possible:
How long did the internship last?
What did you do during that time?
What could you achieve?
What skills have you acquired or trained as a result?
You can answer the above questions like a kind Checklist process and thus describe the individual internships according to the same pattern. The decisive factor here: the HR manager must Recognize added valuethat you offer with this practical experience for the advertised position.
How many internships are there on the résumé?
The already mentioned restriction "only relevant internships with job reference" should significantly reduce the selection. Otherwise, however, the following rule of thumb applies: more than three, a maximum of four internships you shouldn't include them on your résumé. That dilutes your profile at some point - and many internships no longer seem focused, let alone top talent. More like someone who had to work their way from internship to internship. In addition, the Curriculum vitae a maximum of two A4 pages not exceed.
Further articles on the internship
Free: 40+ resume templates and samples
The CV templates shown here are only a selection. The complete overview with more than 40 free and professional templates, samples and designs can be found online HERE.
Professional CV: Current Samples
(Please click on the thumbnails to download the CV templates)
CVs for different jobs
(Please click on the CV photo to download the Word template)
Tabular curriculum vitae: modern templates (with icons)
(To download the Word template for free, please click on the preview)
Internships on the resume: how to mention how to pimp?
In general, internships are mentioned in the résumé, as are other professional positions. In the tabular curriculum vitae (which is standard today) with the times according to the model MM / YYYY - MM / YYYY in the left column and the table of contents in the right column.
Specifically, it could look like this, for example:

Basically: Don't overdo it and stick to the truth! With a clever choice of words you can pimp individual stations and present them more positively (see examples below). But you are not allowed to lie. After all, HR professionals also know the tricks. And if you then stumble and stutter when you follow up on the interview, you are immediately disqualified.
The better strategy:
Think again carefully which of yours activities which value contribution could create in the company.
How can you be precise and describe positivelywhat did you do?
Take enough time to strong words to identify who also fit the job profile and are also relevant for it.
Active formulations beat passive - always. Anyone who "organized" the scout camp, for example, and not just "supervised" it mutates directly from being a companion to being responsible.
Words are powerful. You should never underestimate their importance, but rather use to your own advantage - also and especially in the résumé. Even sideline jobs or mini jobs can be embellished in this way. For example, as a student, you never have waiter (how profane!) but have as Service specialist in gastronomy gained valuable experience.
Don't laugh, it's the nuances that count. You can sometimes make the difference when there are several candidates. Even if HR managers never admit that: Subconsciously the choice of words has an enormous effect and influences more decisions than many think.
So try yours vocabulary adapt to the respective industry and the job profile and - if possible - Technical terms to sprinkle. In this way, the résumé appears a bit more tailored and you yourself become more competent.
Some examples…
Internships in the curriculum vitae - example 1
During your internship you managed the Facebook page of a craft business and want to move on to journalism or PR. To do this, apply for another internship in an editorial office.
What is NOT on your CV:


Maintenance and support of the Facebook page.

What is written in the résumé instead:


Social media editing, content curation on Facebook and community management.
Internships in the curriculum vitae - example 2
You have completed a taster course in the call center and would like to use it to recommend yourself for a job in sales.
What is NOT on your CV:


Accepting phone calls and providing information.

What is written in the résumé instead:


Customer care, customer management, telemarketing.
Internships in the résumé - example 3
You were active in the Asta at your university, organized parties for beginners and information events. Now you want to get into event management.
What is NOT on your CV:


Organization of parties and tent camps.

What is written in the résumé instead:


Conception, planning and implementation of various events at the university.
Internships in the résumé - example 4
During your internship you made flyers and posters yourself on your computer. Now it should go into the media design.
What is NOT on your CV:


Design of flyers and posters.

What instead is in the résumé:


Conception, design and implementation of advertising material.
Internships in the résumé - example 5
During your internship in the Group, you copied documents, sorted folders, greeted guests and served them the finest Arabica coffee.
What is NOT on your CV:


Temporary work and simple office work.

What is written in the résumé instead:


Reception and office management as well as management support.
Of course, these are only examples that - as already mentioned above - should be true. At the same time, it is a matter of not selling yourself below value in terms of the choice of words. The correct formulations help you prevent that from happening.
Lining in the job interview
Pimp your résumé, send it off, cross your fingers, done? Not quite. The above tweaks will help you get that to skip the first hurdle with the application and catch an invitation to a job interview. But then it goes on.
The fewer stations and practical experience you specify in your résumé, the more important each one becomes. to ask this is very likely.
Therefore, think about what you are talking to your interlocutor talk about your respective internships in concrete terms can:
What useful experiences have you gained (examples!)?
Which event was particularly formative?
What professional and personal lessons did you take with you?
Think of some nice, coherent, and emotional ones Anecdotesthat you give the best in the interview. But here, too, the following applies: Don't think up anything, but decorate something is entirely allowed.
[Photo Credit: lOvE lOvE by Shutterstock.com]