Quip is a collaboration tool and is fully integrated into Salesforce. Quip serves as a platform for teamwork with integrated office functionality, including word processing, spreadsheets and presentation software.
Salesforce's platform enables real-time collaboration on the basis of a large number of documents. The big advantage: Quip is also used on the move and is therefore also suitable for employees who travel a lot.
Quip appears in Salesforce as a tab in the Sales or Service Cloud view. There, employees can collaborate on documents and manage all of their information in one central location without having to switch between multiple applications and without the risk of losing context. The collaboration can thus run seamlessly.
Optimize collaboration
The idea behind Quip is to centralize the (collaborative) work in Salesforce. The tool can be integrated into Salesforce and users can use documents, tables and chat. This means that all sales and customer service activities can be performed in one place instead of several. In order to consult with colleagues in the chat, for example, employees do not have to change the application first, but can do this directly in Salesforce via Quip. With the "@mention" function, users can address / mention their teammates directly in the document and interact with them.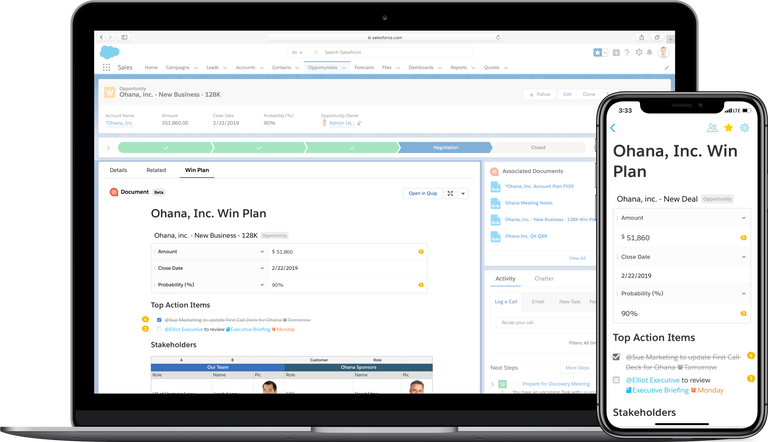 Figure 1 "Open in Quip" function in Salesforce
Sales and customer service processes
Administrators can create document templates to standardize sales and service processes and to simplify them for users. Each team has drafts available that can be adapted to the individual needs of the teams, for example based on factors such as business size, industry or location. In the service context, customer service representatives can set up topic pages to discuss different types of problems and quickly get answers together - even when chatting directly with a customer. If a person is not yet involved in a Quip document, they can request access to the document with a click.
E-Book: The best blog posts about Salesforce service and support
In this e-book you will find our best blog posts on the topic of "Salesforce Service & Support".
Quip documents in Salesforce
Users can create documents, spreadsheets and checklists with the Quip component in Salesforce and link them to the Salesforce data and applications. Since Quip is about dynamic content and documents, users have no problems with version chaos - the documents are always up to date. Quip documents are fully searchable and can be found in the Lightning interface.
Embed Quip documents in Salesforce Lightning
The Quip Document Lightning Component brings Quip documents and chat rooms directly into the Salesforce system. All Quip functions - extensive editing, live updates, comments - are available without having to leave Salesforce.
With the Quip templates mentioned earlier, teams can optimize their Salesforce workflows: Each Quip document can be set up as a template that teams can use to create documents and embed them in Salesforce records. You can even automatically fill new documents with standard and custom fields from the record.
Advanced Search
Quip simplifies the search for specific projects in document management systems. Users not only search for the keyword or document name, but also the time the document was created, who created it, who changed it, and even when it was last opened.
Quip & files
Quip is integrated with the Salesforce Files API. This extends all of the benefits of Files to Quip, including document publishing to Chatter, intelligent search, and document previewing.
Export Salesforce Live Data
Salesforce reports can be viewed in a Quip table with one click. The data is live - if something is updated in Salesforce, it is also updated in Quip.
Collaborate and make decisions
The slide function combines the classic collaborative aspects of Quip with a PowerPoint-like slide presentation format that is suitable for internal meetings and brainstorming sessions.
Remote teams and groups that need to or even want to reduce the number of meetings in the style of a conference room can chat in "slides" about the respective topics on the slides, edit the slides in real time and use the "@mentioning" function (such as already mentioned) interact.
Quip spreadsheets
Quip turns the Salesforce list views into spreadsheets. This allows users to sort, filter and process data with the extensive spreadsheet functions. Colleagues can be added to the table and real-time discussions can be started.
filter
Quip tables have many built-in filters (similar to Excel table filters). This filtered data is then pasted into a Quip document and shared with the team. Additionally, while you can export reports from Salesforce to Excel, these reports are not updated automatically because Excel is not fully integrated with Salesforce.
Save in Salesforce
With Salesforce and Quip syncing, users can also do things like adding live Salesforce recordings to an account plan. It's a two-way direction. If you change customer information in your Quip document and click "Save to Salesforce", the changes will automatically be reflected in both locations. This is a great advantage for companies that want to avoid duplicate entry processes and minimize errors that can arise from entering the same information multiple times.
Live apps on the go
With the live apps, employees can also access Quip while on the go and, for example, communicate the status of a workflow and add information, such as: For example, who "owns" the project, who the workflow approvers, and when and who posted the last update. Users who are all on the same project can use the workflow app to access a shared calendar and / or a live kanban board. Within Quip Live apps, users can also use "@mention" to mention team members, link to documents, assign due dates, set action items and access live chat functions.
Jira can also be integrated into Quip. When companies use Jira, employees can collect Jira tickets and collaborate with other team members using Quip, or even create a new workflow using Lucidchart, which is also integrated with Quip.
Keep an eye on your business on the go - with the Salesforce app!
Conclusion
Quip is a mobile application for editing documents. It enables companies to access text documents, tables and checklists from anywhere. The big advantage of Quip is how easy it is for teams to discuss, edit, comment and finalize documents via the platform thanks to the integrated tools for teamwork - without having to leave Salesforce. The real-time chat also contributes to this. Do you have further questions about Quip Salesforce and the application? Please contact us!
Robert Richter
My name is Robert Richter and I am an enthusiastic Salesforce Consultant at mindsquare. Like my colleagues, I have turned my hobby into a job.
Do you like this article? Subscribe to our news and blog posts!
Enter your e-mail and you will regularly receive a compilation of our current blog posts.