Are matcha lattes good for you?
My matcha latte
As I write this post, my Matcha Latte is standing next to me on the living room table. Many of you probably know Matcha powder, drink it regularly or at least know what it's all about. But since there have been many newcomers here in the last few months, I would like to explain to you today what Matcha powder is and why it should be so good. I also have a few tips on how to best drink your Matcha Latte.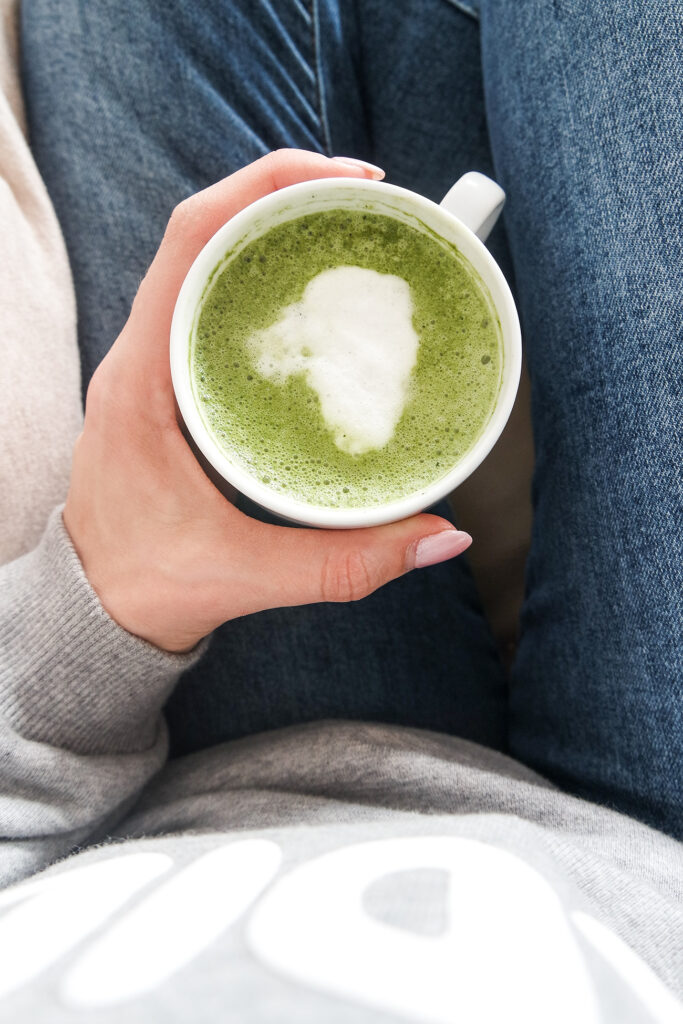 I even brought my Matcha powder to my family because I really enjoy drinking it in the afternoons at the moment. The others don't dare to do it yet, but I'll convince them. My Matcha Latte tastes like a treat to me, and if I can still do something good for my body with it (Hello Anti Aging Antioxidants), I'm all the more happy.
What is matcha powder?
Matcha is a special green tea. This tea is powdered. While with normal green tea, hot water is poured over the tea leaves, pulled through and removed, Matcha powder is nothing more than powdered tea leaves that are stirred into hot water and frothed or dissolved. Matcha powder has about as much caffeine as a cup of coffee and about three times as much caffeine as a cup of green tea.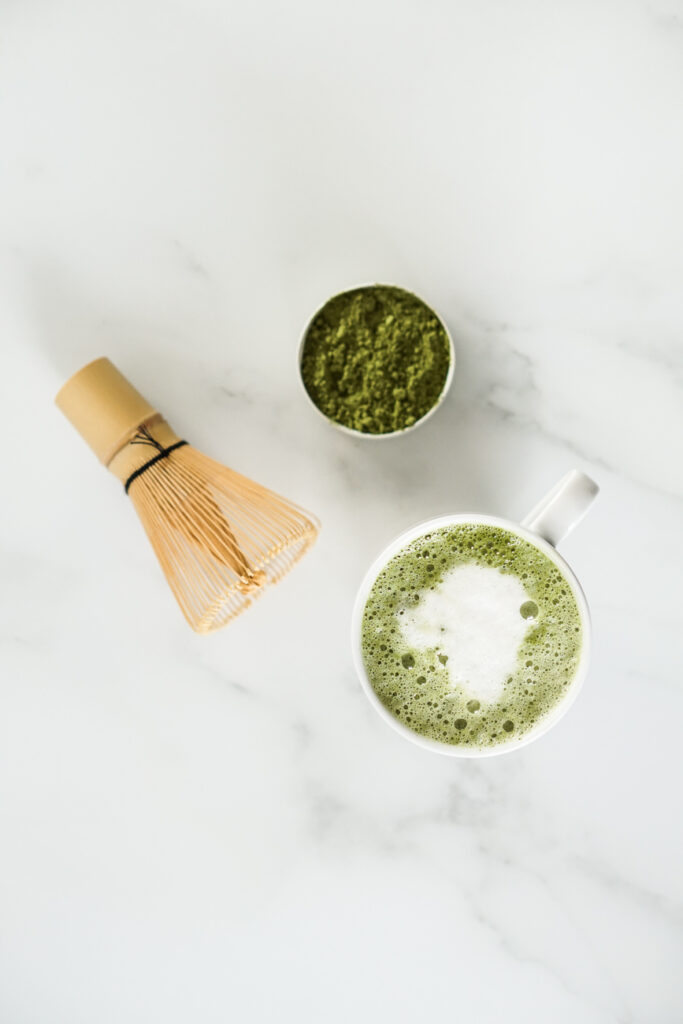 Benefits of matcha powder
Since matcha powder is made of high quality from whole leaves, the nutrient density is also higher. There are a lot of antioxidants in Matcha powder. Antioxidants are said to stimulate the metabolism, have an anti-aging effect and prevent various diseases.
Where can I buy Matcha powder?
I buy my Matcha powder, among other things. from Kissa and nu3. What do I pay attention to? The taste, the color, the origin and that the powder is organic. Good matcha powder should come from Japan, have a bright green color and taste slightly nutty and earthy. But it's best to test it yourself - as I said, I've linked my favorites above. Good matcha isn't cheap, but it's really worth it.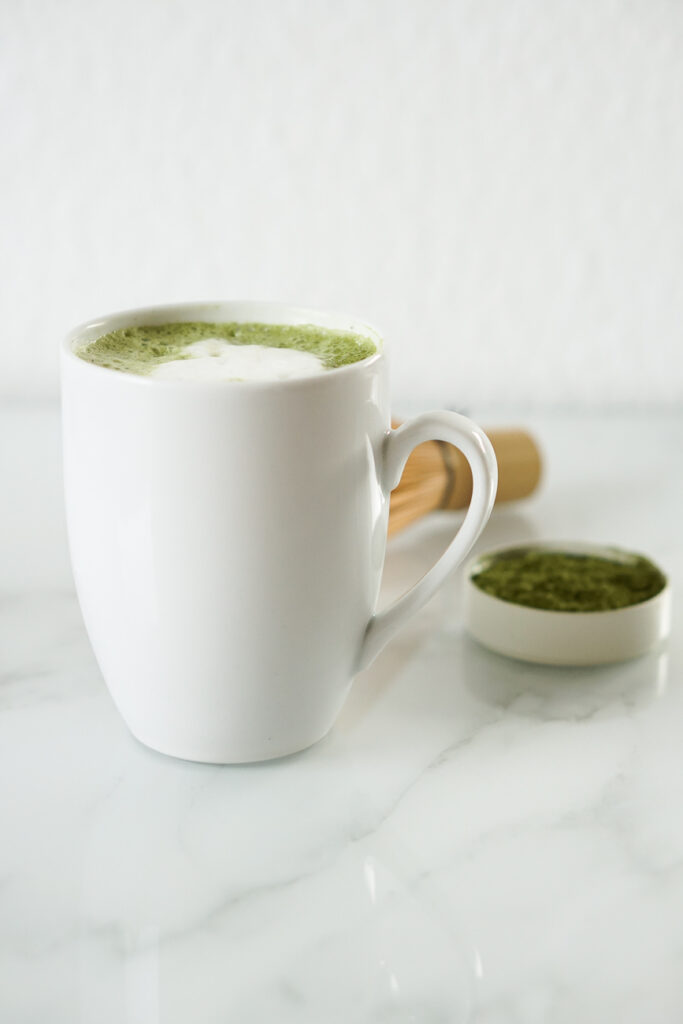 How do I prepare the perfect matcha latte?
powder
The most important thing is a good quality matcha powder. It's like having a good wine and believe me, I've already tested quite a few powders.
milk
I recommend vegan milk options because matcha powder with cow's milk just doesn't taste good at all. I love almond and coconut milk mixed together for this. But I also imagine other types of nut milk to be delicious for this.
Natural sweetness
I sweeten my matcha latte with maple syrup, but you can also use another natural sweetener of your choice. For example honey or coconut blossom sugar. Without a bit of sweetness it doesn't taste that good, I think.
Extras
I add some cinnamon and vanilla to my latte - that rounds off the whole thing and gives the ultimate taste experience.
Milk foam
To get the ultimate pleasure experience, I froth my milk. That's why I bought this electric milk frother. I use it for my lattes, Olivia gets pure milk foam to spoon. And everyone is happy 🙂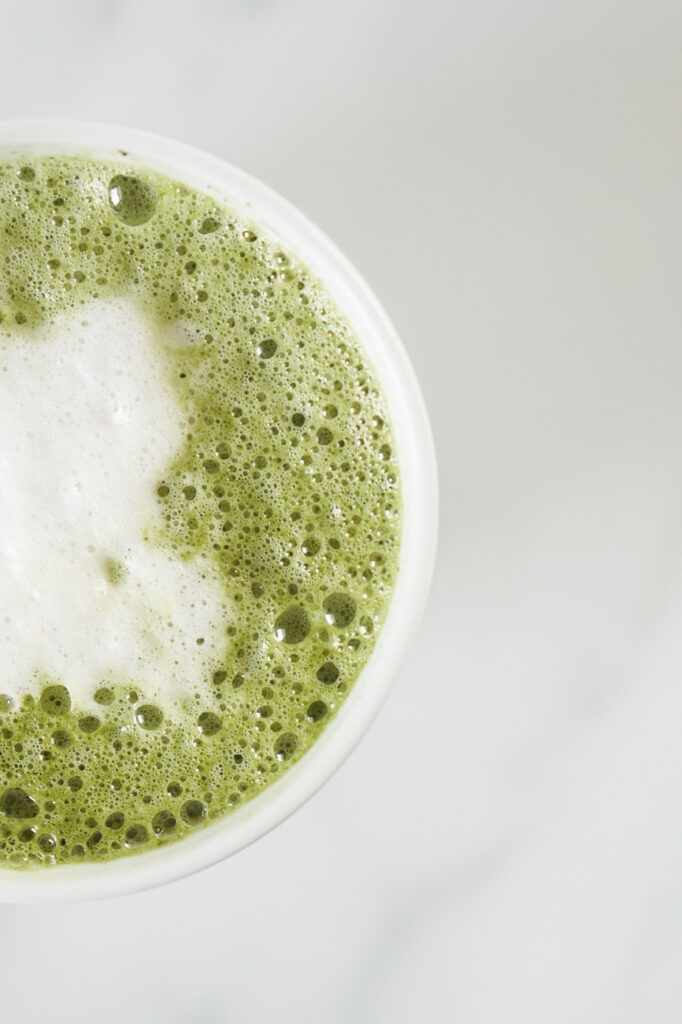 You read: The sweetness, the foam, a delicious vegan milk, a few extras and a nutty-mild Matcha powder taste make my Matcha Latte almost a marshmallow drink dream that you should definitely try. You can find my recipe for the Matcha Latte below - I'm curious how you will like it!
On another note:
By the way, a huge sorry: I completely forgot to send out the newsletter during the whole packing stress (we are with my family over Easter) and currently have no access to the content for it. For this it will be extra long next week 🙂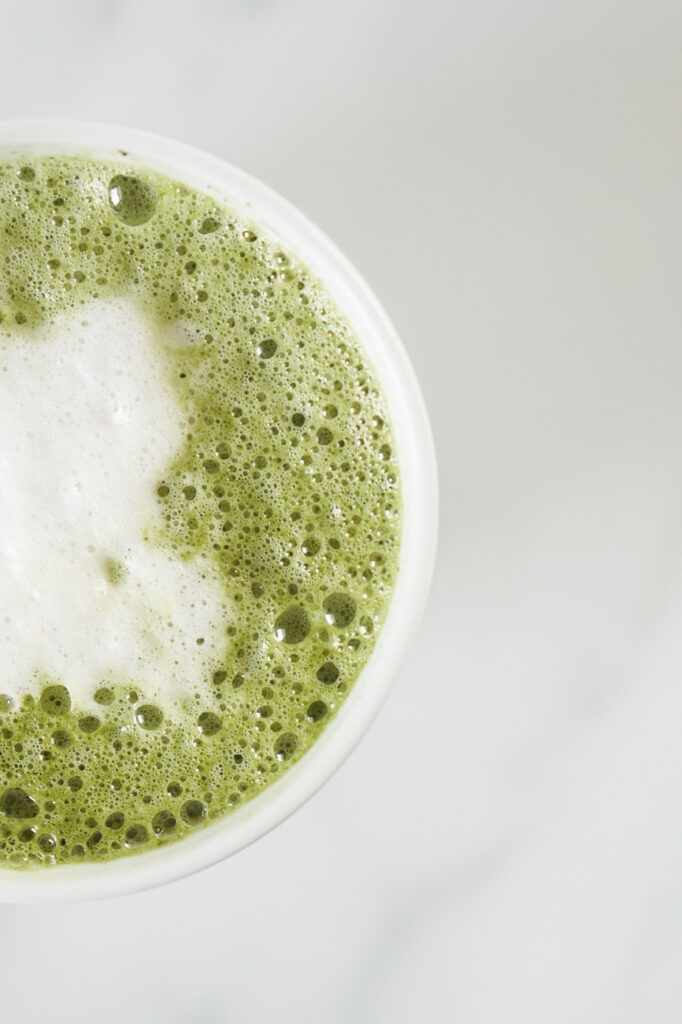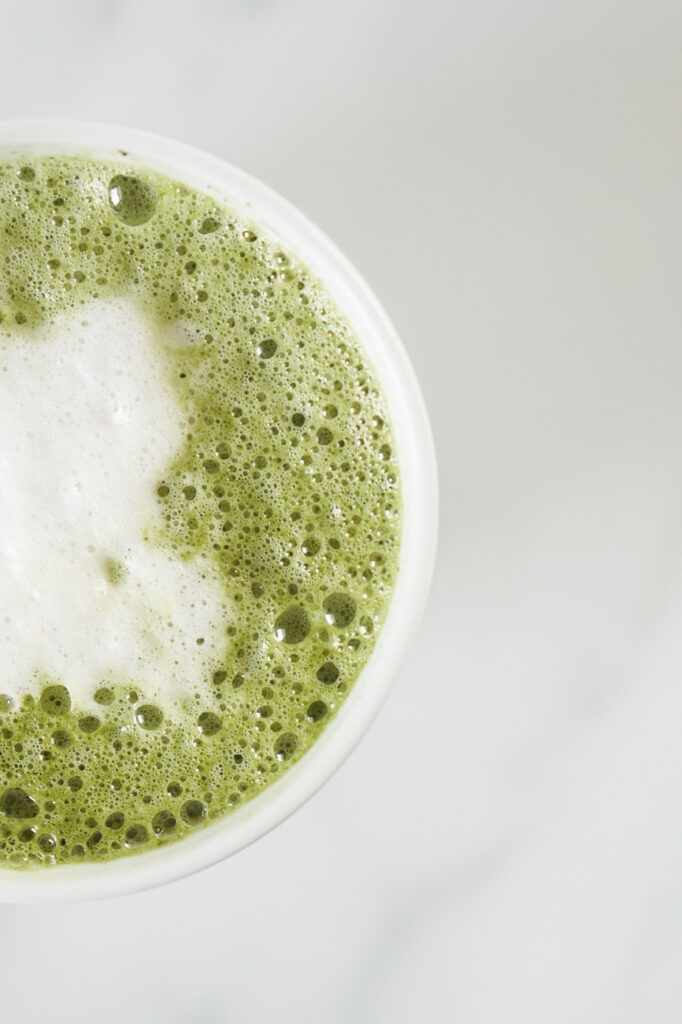 1 teaspoon matcha powder
1 teaspoon maple syrup (or other sweetener)
200 ml vegan milk (almond and coconut milk are my favorites)
1 tbsp hot tap water
Cinnamon and vanilla pod powder, optional
Mix 1 teaspoon matcha powder with 1 tbsp hot water.
Warm the milk and pour it onto the liquid Matcha powder.
Stir in maple syrup, cinnamon and vanilla.
Whip up some milk with a milk frother and pour over it.
Julie Feels Good https://juliefeelsgood.de/
13
Diet, drinks and shakes, recipes