become an actor
Actors in film and television, in the theater or actors in musicals - the Dream job number one for thousands. But what are the prerequisites for this? What do I have to be able to do in order to exercise this profession with purpose?
What are the advantages of a school education or coaching? What do you have to consider in order to get a place at a good drama school? StagePool helps with the decision - with Harald Weiler from the Hamburg Stage School.
What do I have to bring?
On the question "What qualities does an actor need to have?" answers Harald Weiler from the renowned Stage School in Hamburg:
"First of all, there has to be a willingness to go on a journey. The budding actor or musical performer should be ready to deal intensively with himself. 'Who am I? What do I want to achieve with my job? Why do I want to the stage or to the film? ' Everyone should try to answer these questions for themselves before starting their training - and not stop answering them over and over again. "
What priorities should an actor set from the outset?
"You should have a passion for music, movement and language. And you should have a real and deep desire to present yourself to others. Otherwise you are wrong in this profession."
What else?
"Flexibility. Actors cannot be tied to a specific location. You have to be ready to get involved in a 'gypsy life'."
What is not possible?
Is there anything that could be considered an exclusion criterion for actors?
"A disinterest in language, literature, art and human relationships. That would be fatal."
And physically?
"There are certain technical criteria: an irreparable speech error is difficult, for example."
Training yes or no?
A good drama school guarantees the best possible preparation for your professional life as an actor, musical performer or dancer. However, such a solid education also costs a lot of money and time. It takes three years or more to lay the most important foundations - not everyone succeeds in financing oneself for that long on the side.
The minimal solution
So if you are quite sure that your own natural talent is fully sufficient, you can of course plunge into the hustle and bustle of the acting job market even without training. Try to realize as many of your own performances as you can - be it in amateur theater, at parties, weddings or in front of the mobile phone camera. In this case, however, it is very important that you only apply for paid jobs whose roles explicitly do not require any acting training. Often these are minor supporting or extra roles.
At StagePool you will also find jobs that do not strictly require training - but always pay close attention to the description in the advertisement. You have no chance of a real professional job without any training!
Lessons from the acting coach
As an alternative to a long time at school, you can also take advantage of shorter workshops or one-to-one lessons with a good acting coach. This is a popular solution for many, as it makes it easier to control costs and it is also possible to have lessons in the evenings or on weekends - in addition to a paid job. When doing coaching, make sure that the coach himself has a lot of experience in the acting field. The best thing to do is to ask around your friends and acquaintances or ask industry experts which coaches others have already had good experiences with. On our partner page you will also find offers from coaches with different specializations. Have a look!
The way of the professionals: the drama school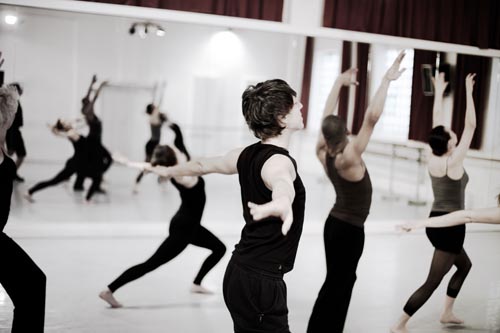 If you are really serious about a professional acting career, drama school is the best, if not to say the only way. This is the only place where concentrated knowledge is imparted and training completed that can lead to leading roles and permanent engagements.
Which school or university is suitable for you depends on the specialist focus of the school offer (acting, musical, dance, etc.). Last but not least, their location or the fees they charge may determine. In any case, first find out which offers are open to you. Acting schools usually have meaningful websites and are easy to find on Google.
Acting schools, especially the well-known and renowned institutes, by no means accept every candidate. If you want a chance, you have to prepare thoroughly!
First of all, this means meeting all formal requirements and observing all application deadlines. The application at the Hamburg StageSchool, for example, only runs via a special registration form, which must be enclosed with a passport photo and a full-body portrait photo. You can always find the latest information about this registration process or new entrance exam dates on their website. You can find more tips for a perfect application here.
What preparation or approach gives applicants a real advantage in the entrance exam?
Harald Weiler from the Stage School: "One advantage is definitely to deal intensively with the selected audition role. Answer the following question to yourself very precisely: 'What does the character I play have to do with me?' With every selected role there should be an aspect that triggers something in the actor himself. You can only score if you are authentic. "
Harald Weiler recommends mastering two to three audition roles before the entrance exam, which are as different as possible from one another - not just young heroes. Only you can find out for yourself which alternatives are right for you by thinking about what speaks to you personally, what moves you and what really suits you. So which character you can fill with real life.
"Nobody wants to see a decal. Casters only care about real people."
(Halrald Weiler, Stage School)
You can find more casting tips here.
Is there a specific tip for the best selection of audition material?
"The audition roles should underline the qualities of an actor," continues Harald Weiler. "You should show what you can do well. If an actor has comic talent, he should show it too! You have to feel comfortable with your role and find an approach to the character." A surefire tip are roles that you love from the bottom of your heart. "The feeling: I really want to play that," Weiler calls it by name.
Listening to this feeling is sometimes a challenge, doubts arise: 'But everyone else is looking for something completely different ...' Pay attention not to others, but to yourself. 'Can I even do that?' Yes. Can you! If you love a role, you can play it too. Accept the challenge, work on yourself and the role and believe in yourself - we at StagePool know from experience: It's worth it!
Photos: Daniela Glunz
more on the subject
ApplicationCastingCoaching
And for encouragement, we highly recommend comedy Little sharks - Sönke Wortmann's early work about an odyssey through Germany's drama schools with a very young Jürgen Vogel and Meret Becker in the leading roles. Most of the actors made their careers afterwards and are now well-known German actors >>